The Knell Group Will Work For... FOOD | January Edition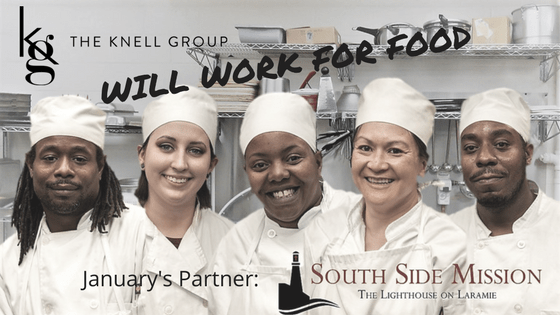 The Knell Group is excited to roll out our new campaign for 2018 titled " We will work for". Simply put, the goal is to help area organizations. Each month we will announce a new organization that will receive a portion of each closed sale that month. At the conclusion of that month we will share with the organization through a monetary donation or through goods if the organization chooses.
This month, we are highlighting South Side Mission.
Started in 1925, the South Side Mission has grown to provide youth ministry, a homeless shelter, large food pantry, outreach programs and career training ministries to over 15,000 Peoria residents primarily in the 61605 zip code.
According to southsidemission.org :
The Mission primarily serves the residents of the 61605 zip code, one of the 100 poorest zip codes in the country.

61605 is home to 16,000 people, 49% living below the poverty level compared to 17% for the county.

40% of the population is white, 60% is African American.

There are 310 city blocks and 7396 housing units.

The median age is 30, average household income is $19,422.

The Mission accomplishes this with the help of over 38,000 volunteer hours annually.

The annual budget is $4 million, supported completely by donations, we receive no government or United Way funding.
So if you are in the market to BUY OR SELL a home please consider partnering with The Knell Group for your real estate needs. It's a great way to give back to the city we love.
If you aren't in the real estate market but want to help you can donate HERE OR volunteer by contacting Patricia at 309-676-4604 or by emailing [email protected]
We hope to hear from you soon!
START YOUR HOME SEARCH HERE
Stay tuned for February's organization... hint: We will work for ANIMALS